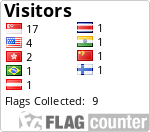 Sorry to anybody who clicked on here to read a new posting.  I thought it would be fun to have one of these do-hickeys in my side-bar (which I do now) to know where my bloggin' buddies are located.  Imagine my surprise when I learned that unbeknownst to me, I had posted today!  Because the flag counter posted itself. Really!  Worse, it didn't even start at the beginning of my blog, but only with late this afternoon.  Curses!  Foiled again.  Or is it Flagged again?
It did give me a totally random opportunity to post this comment that I recently received.  I am hoping that it was spam.  At least, that's how it was marked by Askimet.  I may need some extra hugs, blog hits and comments to be sure that somewhere out there, someone isn't really thinking the thoughts we all fear folks are thinking.  Here's what he/she said, sniff, sniff:
Hey, you used to write great, but the last few posts have been kinda boring… I miss your great writings. Past few posts are just a little out of track! come on!
Perhaps next time I am short of ideas, something else will magically appear here at FiftyFourAndAHalf.com.  Of course, if I didn't write it, it will, naturally, be boring.